2022 saw WordFest spread its wings and become what we'd hoped for from the beginning, a truly Weardale-wide event. It began on 8th October in Ireshopeburn, David Napthine kicked off our series of writing workshops with A Grain of Sand a session that had us all thinking outside the box. Judith Marshall ran a thoughtful workshop on Writing for Wellbeing in Frosterley followed by Creating a Junk Journal with Sarah Dodds in St. John's Chapel. Mary-Jane Holmes took us on a creative journey, Walk the Write Path, around Low Barns Nature Reserve in Witton-le-Wear and Avril Joy and Chris Powell brought the focus closer to home with Writing the Garden in Wolsingham.
'This is the 3rd year I have attended the Weardale WordFest and it just gets better and better! Inspirational and entertaining talks and presentations as well as a real community feel. It is also a major boost to reading and writing throughout the year. Keep it coming!'
'Brilliant! The quality of the leadership of the workshops is fantastic. It has all been such FUN! Thank you.'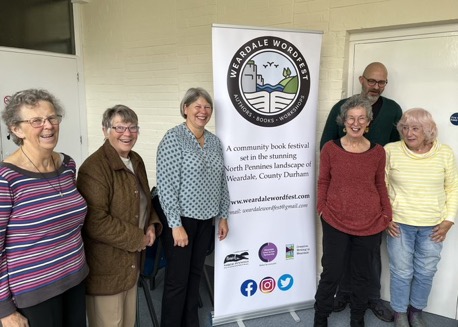 And then … the Weekend! Lisette Auton encouraged us to let our imaginations run riot and travel into the realms of the fantastical with an amazing (sold out!) workshop on Friday afternoon. In the evening, Phil Mews entertained a packed house with glimpses behind the scenes of celebrity culture and extracts from his upcoming novel The Girl on the Red Carpet … not to mention the hilarious Corned Beef Chronicles.
Jo Hayes opened Saturday's events. Jo is well known, and loved, in Weardale having spent twenty-five years as a youth worker here. She has now, at the age of seventy-five, published a memoir, Over Hill and Dale, and held the audience completely enthralled with her beguiling anecdotes and eventful life story. Anna Barker is an award-winning novelist, poet and short story writer from Durham and we were thrilled to welcome her to WordFest to read from her beautiful, insightful short story collection Rain Hare.
The Secret of Haven Point is Lisette Auton's debut middle grade novel, published by Puffin in 2022, it was a real treat to welcome her back and to listen to her discuss her work with Avril Joy; Lisette just radiates infectious energy and enthusiasm.
'Thank you Wordfest for such a warm welcome …. what a fantastic festival audience! 'Rain Hare' sold out afterwards which is just amazing and totally unexpected, so thanks so much. Also the cake was to die for!'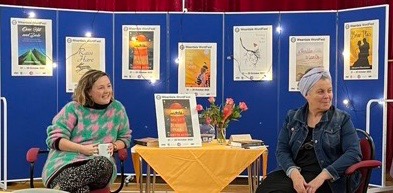 'As an author I have never been so taken care of or supported. I know what it's like to live in a small place where everything seems to happen in London, or involve travel to attend high quality events. High quality creative events are necessary here. This was exceptional quality in a place filled with such creative people, an event curated with care and knowledge of the people they serve.'
Mary-Jane Holmes opened last year's WordFest with a workshop — Writing the Wild. The participants were inspired, and the result was a pamphlet of the same name. They gave us readings from Writing the Wild and Mary-Jane read from her own latest work, pieces as varied and challenging as the writers involved. And then the finale … During the day Sam Slatcher of Citizen Songwriters had been working with a scratch band of lyricists and musicians in St. Thomas Church. The St. Thomas Troubadours showed us what they had been up to with a rousing performance of six newly penned songs — some with singalong choruses — to bring Saturday to a lively and thoroughly enjoyable conclusion!
On Sunday the heavens opened! Nonetheless, there was another sell-out workshop, Writing Poetry with Vane Women, creative, thought-provoking, it inspired some incredible poetry. Carol Graham, another local author, launched the second volume of her humorous, reflective memoir about life in the old house on the hill above Westgate, A Shoulder to Lean On. She attracted a packed house, in spite of the rain. And in the main hall, sixteen Weardale authors and photographers set up their stalls for the WordFest book fair.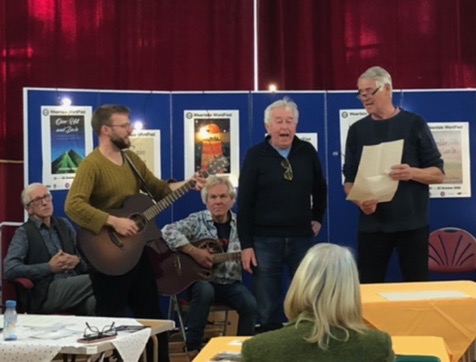 'I had a brilliant time at the Songwriting Workshop during the Weardale WordFest. I didn't really know what to expect, but had no idea that eight complete strangers would manage to create and perform six songs, in the space of a few hours.'
A brilliant day – once again reminded me how many gifted and talented writers there are in this small area of NE England. A little festival that punches way above its weight!